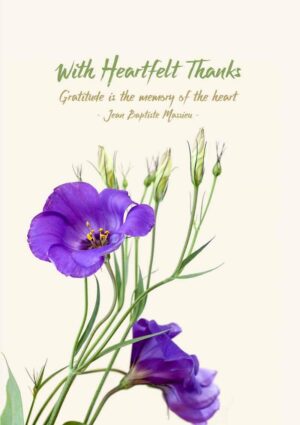 How to write a thank you card? Showing gratitude is always a good idea. Doing it via a physical card is even better. Whether saying thank you for gifts received, a favour that someone has done for you or just a big old, thanks for being there – Thank You cards are a simple gesture that can mean a lot.
If you need convincing, here are the two reasons why you should always send Thank You cards to say those magic words.
Reason number one is because it's polite. Yes, you can hop over to social media and hurriedly pump out a thank you message. Or you can send a text. But none of these carry the same weight or feeling of sincerity that a handwritten note or card does.
A Handwritten Card
A handwritten message is an important part of our culture. We humans have been writing to communicate for so long that we're just naturally wired to think of writing as a way to say thank you.
Reason number two? It shows you care. A Thank You card arriving in the post is the perfect way to show someone you care. It would take a robot not to be moved by receiving a card. Sending one shows not only you've gone to the effort to find the perfect card, you've also taken the time to sit down and write it – and all to show the person you are sending it to that they are worth it.
However, we know that for some people, the hardest part of sending a Thank You card is writing it.
How to write a thank you card will help you do that and here is our six-step plan to writing the perfect Thank You card…
Perfect Your Opening
Yes perfect your opening, and of course the best way to begin your message in any Thank you card is to start with appreciation and with something that connects you to the person you are writing to. Think along the lines of "It was so lovely to see you at Jane's party" or "It was so nice of you to think of me on my special day". Get the opening right and the rest will flow.
Say Why
A thank you is your response to something you received. Say why what you have received was meaningful, useful or helpful. Whether you are saying thank you for a gift or for support, it is important to acknowledge what was so special about what you were given.
Just saying thanks for the gift, believe me, doesn't cut it. Instead, tell them why you appreciate it and how you've benefited or plan to benefit from it.
For example: "Thank you so much for the lovely skirt that you sent me. I wore it last night and received so many compliments".
Or another example: "Thank you for your recent advice on my job interview. I now have important skills that I will carry with me throughout my entire career".
Short And Sweet
Be concise. Remember this isn't an essay, so stick to three or four lines. That's all it takes and it will be much more effective than labouring over a long text that doesn't have any oomph.
Be Yourself
Be authentic. To be authentic, you need to write something that has your voice – something that sounds like it's come from you. Don't feel you have to bedazzle with fancy words or poetic prose if that's not your usual style. A top tip is to write down exactly what you'd say to the person if they were stood in front of you.
Think Forward
Finish up by including a wish for the future. When closing your thank you note, it's nice to include a wish for the future, whether it's "I look forward to your visit in April" or "I wish you the very best for your exams".
End Well
Choose the right closing phrase. This of course depends on who you're sending the card to and what the occasion is. If it's to a friend or relative then you want your closing phrase to be warm. A phrase such as "With love and thanks" or "With thanks and appreciation". If it's business based or for a more formal occasion then "Sincerely" or "Thank you for your assistance in this matter" will be better suited.
A Thank You card is the perfect way to reflect back the thoughtfulness that has been shown to you and it's a great way of expressing gratitude.
How To Buy A Thank You Card
We have a range of thank you cards that you can see by clicking this link. You can also go straight to the cards illustrating this article by simply clicking on those images.