When you hear someone you care about is ill or has been injured then it's only natural to want to reach out to them.
They are likely to be disoriented from the events and looking for something to comfort them. Sending a Get Well Soon card is a great way to give that comfort. And learning how to write a get well soon card will help you achieve your objective.
Sometimes it can be hard to find the right words to express your feelings. If that is bothering you, take the pressure off yourself and relax. That's because the fact of actually sending a card will go a long way towards lifting the recipient's spirits and helping their recovery. And what you write is only small part of the 'Get Well Soon' puzzle.
You want to get it right, though. And the content of your greeting will depend on the specific situation, of course. A message to someone with a minor injury is going to be different from a message to someone with a serious illness. So striking the right tone is essential.
So here are our tips on how to write a Get Well Soon card that will hit all the right notes.
What's Your Relationship?
Thinking about what kind of relationship you have with the person you're sending the card to is how you'll determine the correct tone you should use.
We've highlighted the top five people you're likely to send a card to. And we have also shared a couple of examples to help you get writing your message.
Close family
With family members you are close to, you'll probably find the words come naturally and it's easier to make it personal. At the same time it can be a problem because you speak to them all the time – so how can you say something fresh and new? A trick there is to think about how they must be feeling. And that will help your words come to the surface.
Relatives
We are talking relatives who don't live with you here. And unless you're not particularly close, keep the tone intimate and friendly. If they live nearby you can put in an offer to help them. So just mention that you're happy to get any shopping they need or that you could call around with dinner one evening.
Practical offers of help are always better received than just the standard You know where I am if you need me. line. Here's an example:
I'm so sorry to hear that you've not been well. The whole family are wishing you a speedy recovery.

If you'd like, I can walk your dog for you a few times next week so that he gets a good run and you get some peace and quiet?

Wishing you a speedy recovery
Friend
You know your own friend better than anyone. So write couple of sentences that you know they'll appreciate. Say something that speaks about the good times you have. A joke or memory that you know will make them laugh. Here's an example:
I'm so pleased to hear you got through your surgery with flying colours. Now make sure you get plenty of rest so that we can hit the town and catch up soon.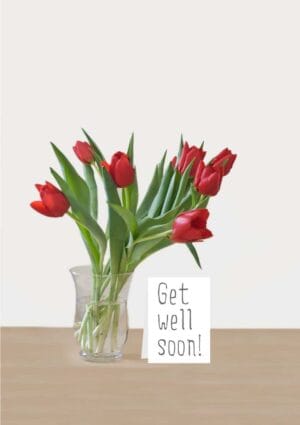 Colleague or Co-worker
Let them know that they're being missed in the office and that you're looking forward to seeing them again. It's always important to acknowledge the role someone plays in the office, especially when they're off sick.
Your Boss Or Manager
Again, similar to your co-worker you want to remind them that they're missed from the workplace. Also keep it short and simple. A kind word about how you're wishing they make a speedy recovery is enough. Here's an example:
We are all so sorry to hear that you haven't been well and we are missing you at the office.

Make sure that you take the time to get plenty of rest so you can feel better soon. We're all looking forward to seeing you back at work.
How To write A Get Well Soon Card
Your Get Well Soon messages never have to be very long, just keep them short, sweet and upbeat. That is so especially as simply by sending the card, you have said so much already.
How To Buy A Get Well Soon Card
We have a range of get well soon cards that you can see by clicking this link. You can also go straight to the cards illustrating this article by simply clicking on those images.