Our Butterscotch Guinea Pig Greeting Card features this timid guinea pig. Just look at that butterscotch and white colouring.
She is asking, 'Would you mind awfully if I were to wish you a happy birthday?'
Click the card itself and it will take you straight to the product page for a closer look at the card.
This card one of five Guinea Pig birthday cards in our catalogue.
There are also eight 'everyday' guinea pig greeting cards in the catalogue – with more to come with our Valentine's Day cards, as you can read later on in this article.
Guinea Pigs Are Such Characters
The nice thing about making these cards is that guinea pigs are such characters, and their little faces just cry our for a sympathetic message.
This is Piggy, a birthday card with a guinea pig look right back at you with that adorable sensitivity that piggies are so loved for.
Topping off the picture is Happy Birthday printed in contrasting colours that match the guinea pig's colouring.
And there you have it: Piggy Birthday Card for guinea pig lovers and all people everywhere.
Guinea pigs have a soothing effect on the heart. Which is why they should be appointed as ambassadors to the United Nations – or in this case, be given responsibility for delivering birthday wishes.
If you like Piggy Birthday Card, click the card itself and it will take you straight to the product page where you can look at it in more detail.
Love Me, Love My Whiskers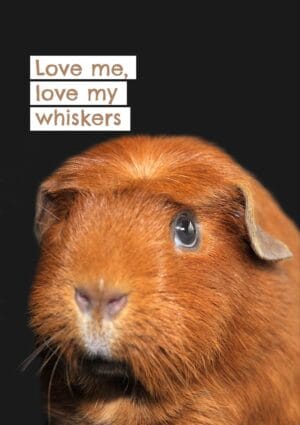 This My Whiskers greeting card has a close-up of a guinea pig with a crest on its forehead, and text 'Love Me Love My Whiskers'.
It's romantic, friendly, and appealing. Who can resist it and its oh-so-sweet expression?
Imagine it displayed on a mantelpiece, or a bookshelf, or a table.
Don't you think this card would catch your eye from right across the room?
Tip: If you want to explore all the Guinea Pig cards, type 'Guinea Pig' into the the product search bar at the top of the page.
Where Do We Get Our Subjects
It's been a while since we had any guinea pigs, and yet the ones we had often come up in conversation.
We like their little bodies, their ways, the softness of them. We like to call them ambassadors for world peace because they would melt the heart of anyone.
Can you imagine the ambassador guinea pig speaking at the United Nations, bringing people together with the love of her message?
We photographed our guinea pigs because we loved them.
We did not imagine the day would come when we would make greeting cards and they would become the subjects in some of them.
My wife and I remember when we took this photograph of Audrey, our guinea pig, who was sitting in an upturned fez on our coffee table.
As my wife walked away across the room, Audrey lifted her head and gave the most heart-rending screech.
We comforted her and told her that everything was OK and in a couple of seconds she was back to normal as if nothing had happened.
Now fast forward to this month, and we have used the photograph and added the words 'Be Mine' to make a Valentine card. There are eighteen Valentine's cards in the 'ready to print' drawer, and two of them feature guinea pigs. There is also a duck and an elephant!
Sign up for the newsletter to be the first to know when we print them and put them in the catalogue.