We are Tamara and David and we run the company hands on. We are involved in every stage – from the design idea to choosing fonts and colours, to preparing the cards for the printer, to ordering stock and refilling stock at the distributor.
We've been doing this for several years, so we have it fine tuned so customers can order online and know that the cards are in stock and ready to be dispatched.
And behind every design we make we are always thinking about positive connection, so we steer away from cards that insult or embarrass. Yes, it's all meant to be a joke, but we think that underneath that, people like to be treated civilly and with affection. So that's the kind of cards we make.
That means cards that help connect people and treat them with warmth and respect.
And we use good, sustainable materials to make quality cards at reasonable cost. And never forget we are part of a small ecosystem, from the printing company that print our cards to the distribution centre that holds our stock and sends out orders.
We Use Sustainable Materials
We use sustainable materials by having our cards printed by a printing company that only uses Forest Stewardship Council (FSC) certified materials. FSC certification means that the board is sourced from responsibly managed forests, uses sustainable, recycled materials, and does not use fibres from illegally logged trees.
Cellophane Wrappers
We package our cards individually in cellophane wrappers, and we will continue to use them while we have stocks. After all, there is no sense in trashing the wrappers we have because putting them in the bin doesn't help the environment.
In the grand scheme of things, cellophane wrapper are a minor player, but we all try to be more sustainable where we can. So once our stocks of cellophane wrappers are finished, we will use a paper based solution to keeping card and envelope together.
You may be old enough to remember the days before cellophane wrappers. Cards and envelopes would become separated and customers rummaged around the shelves looking for a matching pair. When they found it, it might be dog-eared from being pulled out and put back by other customers. And nobody wanted a dog-eared card or an envelope with finger marks on it.
Cellophane wrappers kept everything together and clean. Every card publisher started using them and shops loved them. Who knew that plastic would be the cause of an environmental problem?
Like we said, we will use wrappers while we have stocks because there is no sense in trashing unused wrappers. That doesn't help the environment. Once our stocks of cellophane wrappers are finished, we will use a paper based solution to keeping card and envelope together.
If you want to read more about paper based solutions, take a look at our article The Next Big Thing In Cards about environmental awareness in packaging.
Initiatives We Support
As well as using printers with high environmental standards, we support organisations that work to reduce:
Overfishing, including the use of giant trawl nets that scrape the ocean floor;
The use of pesticides that are implicated in causing Colony Collapse Disorder in honeybees;
The 'zero grazing' policy of livestock management;
Habitat destruction that is an existential threat to the environment and human beings worldwide.
Further than that, you might want to read our article on World Environment Day. We asked what there is to celebrate. The world is in a precarious position. Perhaps this is the first time in history when we get a sense of the danger we are in. We have a choice. Either we have the will to pull back and rescue the planet and ourselves from destruction, or the world will teach us the hard way.
We Are Based In Cambridge
We are a small team and we create the designs in our studio in Cambridge. It's an interesting city with a lot of attractive architecture, and here is is a view over the River Cam, not far from our studio.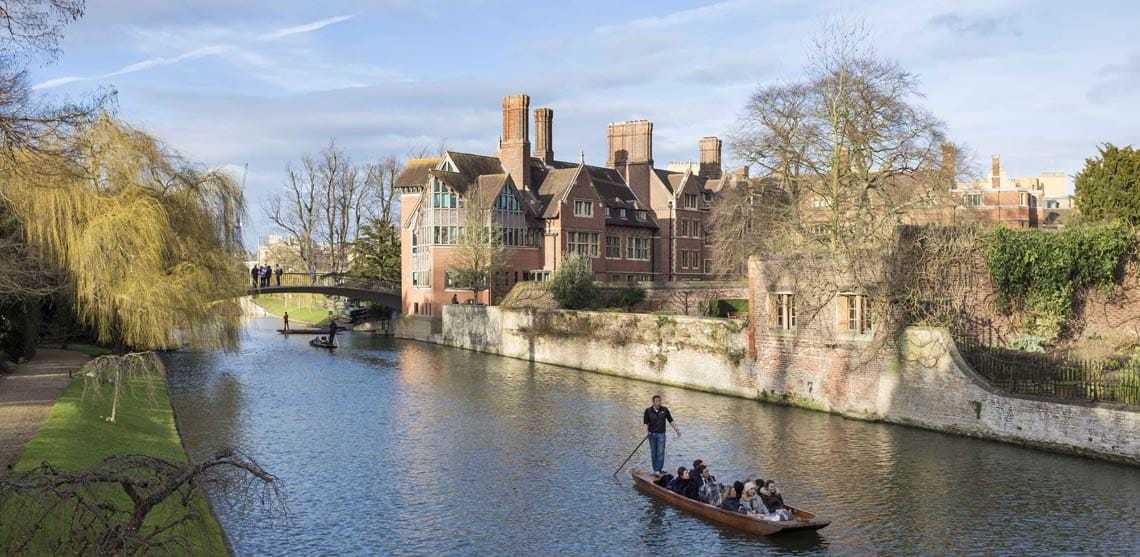 About This Website
This site is built on WordPress using the GeneratePress theme (affiliate link), with WooCommerce e-commerce functionality, and hosted on LightningBase (affiliate link).
If you are building your own site and need advice, please contact us via our Contact Form.
Newsletter