Oh, how we laughed, with bitter tears we laughed. As the ship ran onto the rocks we stared at the captain and crew. What did they know that led them to grind over the rocks, reversing into the sea beyond? Did they not know or care that the ship could sink? Why did they drive on so relentlessly?
Have you read British Foreign Policy Since Suez 1956-1968 by Donald Maclean?
If the name rings a bell, Maclean was a British civil servant who was also one of the Cambridge Five who spied for Russia from the 1930s until 1951. He was slated to be British Ambassador to the USA until his spying activities came out and he fled to Russia. How he managed to get to Moscow is a story in itself. The point is that he was high up in the Civil Service and every kind of cable and secret memo passed across his desk.
He's clear that Britain has been wavering between Europe and the United States since the Second World War. That was true when he wrote the book (in Moscow) in 1970, and it seems to be true today.
That aside, he is clear about what he calls the ultra-colonialists in the British establishment. They have business interests that they do not want to see disrupted. They oppose nationalism and any force that risks their business interests.
The EU is a risk to their business interests and they oppose it and have for years. Hence Brexit.
Repatriation To Planet Of Origin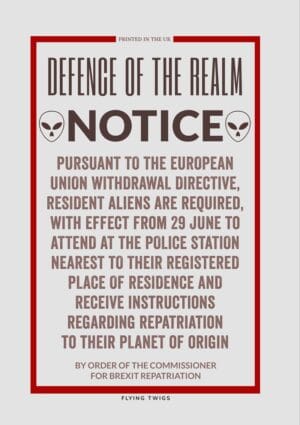 Which leads me to Resident Alien, a greeting card that opposes Brexit by mocking it. It features a mockup of a World War II Ministry Of Information poster concerning reident aliens. But in this case, extraterrestrial aliens.
The text reads that they are required with effect from a certain date to attend at the police station. And not just any police station but that nearest to their registered place of residence. There they are told they will receive instructions regarding repatriation to their planet of origin.
As I explained, when we made this card Brexit was far down the road, and there was a chance it might never happen. Well, that is what we thought. There was a good chance there would be a second referendum, or so we thought. Oh how we laughed, humour as the only antidote to the idiocy of exiting the European Union.
How We Laughed
None of that came to pass and now we are in the period after December 31st 2020. Britain has left the EU. But like a couple with children, the obligations continue.
We can expect new laws and new attempts to hamstring the courts in their role of making sure that was is said is what is done. If it is true that trade negotiations take years, literally years, then will Britain be able to carry on an economy at all? We shall see.
By the way, the Resident Alien greeting card is also available under the title Alien Poster. It's the same layout but available in a range of sizes for delivery to all the countries to which we ship.